HATZ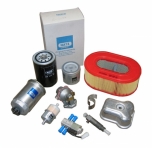 Diesels Plus carry an extensive range of spare parts in stock to suit the range of Hatz diesel engines, in fact the largest range of any distributor in Western Australia. 
We have the ability to supply a complete overhaul package for a 4-cyl multi such as new pistons, exchange barrels, all bearings, exchange crankshafts, exchange heads and fuel equipment such as pumps and injectors from our stock.
The Supra series of 1D80, 1D81, 1D90 and 1D90V are treated the same and we carry all the parts to rebuild these engines from our stock and include exchange engines to enable a quick and economic turn around for our customers.
We also have an extensive range of second hand parts from dismantled engines, such as capsule covers for Silent Pack models, engine blocks for Multi engines, engine blocks for Supra engines and engine parts suitable for refurbishing or reuse in another engine.